1in6's partnership with the Boy Scouts of America (BSA) is grounded in our shared concern and compassion for survivors of abuse and a steadfast commitment to helping survivors get support from trusted sources.
On February 17, 2020, Jim Turley, National Chair of the Boy Scouts of America, released an open letter to victims who suffered abuse during their time in Scouting. In the letter, Chairman Turley apologizes for the abuse, encourages all victims of abuse in Scouting to come forward and file claims to receive compensation from the proposed Victim's Compensation Trust, and outlines the expanded services made available by 1in6 to any Scout, former Scout, or family members of any Scout who has suffered abuse during their time in Scouting.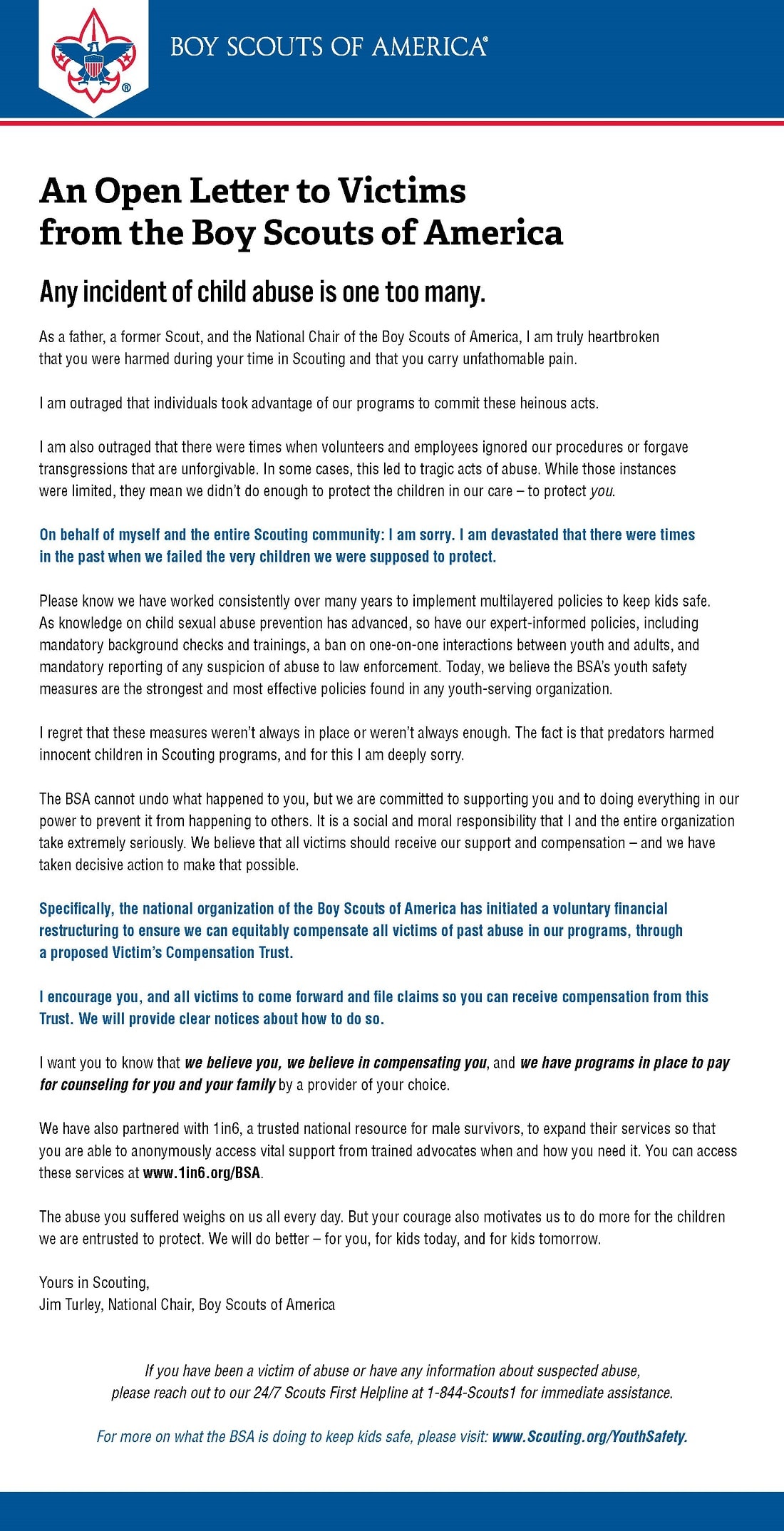 Our five-year partnership with Boy Scouts of America expands the following 1in6 services so that more men who suffered abuse while in Scouting can access vital support when and how they need it. These services can be accessed anonymously and are free to the user. In addition, the BSA will continue to fund in-person counseling for any current or former Scout or member of their family, by a provider of their choice, when they are ready to take that step.
Clinically Facilitated Online Support Groups
1in6 online support groups allow individuals searching for help to chat in real-time,
anonymously, and in small, directed groups. Multiple groups are offered on a scheduled weekly basis for men who have experienced sexual abuse and assault. The 1in6 online support group protocol was developed in partnership with leading clinicians widely recognized for working with male survivors of sexual abuse and assault.
All services provided by 1in6 are anonymous and do not require survivors to share their names or any other identifying information. Information shared through these services is kept strictly confidential by 1in6.
To request in-person counseling by a provider of your choice, please contact the BSA's Scouts First Helpline (1-844-SCOUTS1) or email contact address [email protected] The BSA requires no proof; a victim need only make a request.
For media requests, please contact [email protected] or [email protected]