Scott Air Force Base
November 14, 2018
By Senior Airman Tara Stetler
"The way you respond to a guy could save his life," said Steve LePore, founder of 1in6, as he spoke to a group of Airmen at the Scott Event Center about the stigmas facing male survivors of sexual assault.
"If we don't believe a guy, if we question [his assault], if we minimize it, if we do anything other than just say 'I believe you, and I care about you,' we run the risk of them recoiling," said LePore.
LePore founded the 1in6 organization in 2007 after recognizing that there were few services dedicated solely to male survivors of sexual assault and abuse. These survivors face unique societal barriers in reporting their traumas.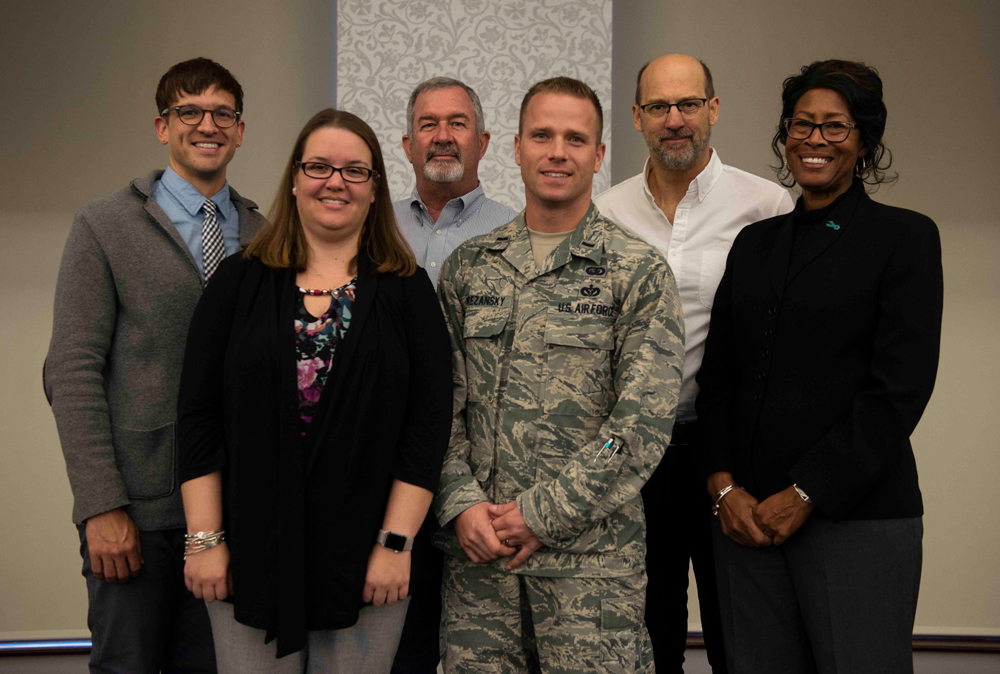 1in6's name draws attention to the fact that one in six men have suffered sexual assault in their lives, and it's the only professionally-staffed national organization that focuses on male survivors.
Scott AFB's Sexual Assault and Prevention and Response team invited LePore to speak to Airmen on Oct. 29, 2018.
"It's a one in six affliction, so you think about how many male service members are flying under the radar," said 1st Lt. Thomas Berezansky, 375th Air Mobility Wing deputy sexual assault response coordinator. "It's important to realize that, at the end of the day, people make the mission, and we need to take care of them."
Anthony Edwards, Top Gun and ER actor and 1in6 board member, was also there to share his story.
Edwards said it's important to visit military bases because the military has led the national sexual assault prevention effort.
"We know that when people have unprocessed trauma, they don't function well," said Edwards. "[Airmen] are in a situation in which people's interactions and relationships are based on trust and being able to function together, so the need is great to have the highest functioning, healthiest force."
LePore and Edwards spoke as both advocates and survivors when discussing the barriers men face in reporting assault or abuse. They emphasized the courage necessary to overcome these barriers.
"We've carried the experience for years by ourselves because we're so fearful of other people knowing," said LePore. "It's like the first time you jump out of a plane, the first time you load a gun and shoot it, the first time you're promoted. There's all of this anxiousness and fear, so the effort it takes to come forward is herculean."